5GSamsung Galaxy Z Flip3
The Samsung Company introduce foldable mobile the name of this phone is Samsung Galaxy Z Flip3 it's the very latest technology. The specifications of this phone are also amazing. Samsung Galaxy Z Flip3 comes with an Octa-core processor.
It has very small size 6.7 inches display it perfectly fits in your pocket. It's a 5G mobile there are many attractive colors available in this phone like cream color, phantom black, green, lavender.
The best thing about this phone is you can easily put it in your pocket and you can also put it in your purse. When you check notifications messages, take photos, play music, and so much more, don't need to open your phone because its 1.9-inch Cover screen display easily interacts with them.
The camera of the Samsung Galaxy Z Flip3
It has an amazing dual Rear camera 12 MP ultra-wide camera and a 12 MP Wide-angle Camera. The cover screen has selfies covered no time to unfold? Take selfies with a Dual Rear camera the Cover Screen will give you a preview.
You simply hit the volume button on the side and your selfie is done. It has a Flex mode feature you can easily capture every moment. You can take photos and videos more easily with Flex mode. Only you can adjust the angle and step back for hands-free selfies the selfies are automatically done.
The Galaxy Z Flip3 5G stands on its own, so there's nothing to hold, and nothing to hold back. The pictures are easily captured on this phone no need for any other support.
 Display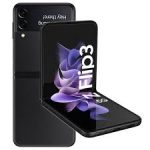 It has 6.7 inches display and it has a 1.9-inch cover screen display is also. Its screen is foldable so this is a very unique feature. It has a waterproof display.
Samsung Galaxy Z Flip3 is pretty tough 
This phone is finished with durable technology so you can easily put it in your bag with less worry.
It flexibility feature
The main screen of this phone is made of Ultra-Thin Glass ­­­_ and it is foldable its panel layer is much protected. It's 80% more durable than before and withstands up to 200,000 folds. The Samsung Galaxy Z Flip3 5G is made with an aluminum frame it's much protected.
Battery
It has a 3300mAh battery. Its battery timing depends on mobile habits than keeping it going all day long.
Its Price in Pakistan 
The price of the Samsung Galaxy Z Flip 3 in Pakistan is Rs. 199,999.