Top 5 Types of Web hosting Solutions in 2023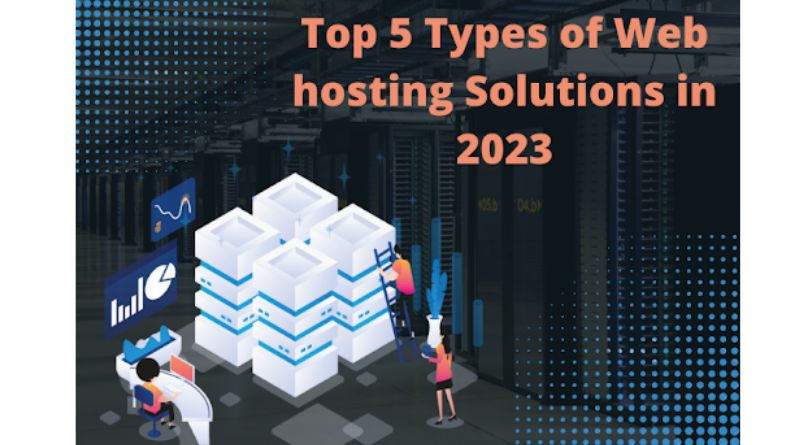 While you want to establish a powerful online presence, you will need to discover web hosting choices. This is one of the initial inquiries that will provide some context for your goals. Today, website hosting is necessary to keep your site running efficiently. You will know more about the best web hosting solutions available after reading this article. We'll also focus on other key aspects, such as why you need it and how you can get it for your website.
Although it is now extremely easy than ever to set up a website, you should still understand all of the key concepts at work.
By reading this article on the five
---
significant Types of Web Hosting Solutions, you can discover how various hosting solutions work. Besides that, it can clarify what beginners should know before getting started.
What is Web Hosting?
All of your website's key materials can get published online with the help of web hosting solutions. Similarly, if someone required additional information, they could access your site from any location with internet access. It essentially refers to the services offered by a web hosting provider.
Choosing a web hosting provider has a number of benefits, even though you could probably run the server for a business website on your computer.
You have the ability to build the most informative and appealing website. Unfortunately, you cannot promote or attract visitors to your website without a website hosting server. To get a spot on a server, you ultimately pay a company for a hosting package. The amount of space and types of web hosting solutions you require will also influence the cost of your hosting plan. To determine which hosting company is best for your website, you should always investigate and compare the best and most reasonably priced options.
What Are the Different Types of Web Hosting Solutions?
There are many different versions among hosting packages outside of just price and hardware. In some situations, complete hosting solutions get built around different operating systems. In order to better prepare you to make an informed choice, let's examine the best web hosting solutions.
Shared Hosting

VPS Hosting

Dedicated Server Hosting

Reseller Hosting
Choose the Best Web Hosting Solution for Your Website
1. Shared Hosting And Who Is It For?
Across all types of web hosting solutions, shared hosting provides the most affordable choice. This is because many users share the storage and resources of the server while hosting their websites on a single platform. Smaller websites that don't require many resources are prime candidates for shared server hosting. Shared hosting would be an excellent choice when you're trying to save money. Although it could experience surprising outages or delays, particularly during peak hours. Still, shared hosting is a good substitute for beginners and smaller websites. It is affordable and easy to start using, and it requires few technological skills. This hosting is a cheap web hosting solution.
2. VPS Hosting And Who Is It For?
The fundamental framework of this type of web hosting solution is virtualization technology. A virtual private server is primarily a little dedicated server running on a shared network. It is an excellent replacement for dedicated web hosting plans. It has a one-of-a-kind web hosting environment with dependable resources. Once you've reached the limits of your shared server but don't want to spend the money to buy the entire hosting server, you can look into VPS hosting. A virtual private server could be extremely beneficial for those who are innovative and would like to customize the settings for their websites. For medium size businesses, this web-hosting solution is the best
3. Dedicated Hosting and Who is it for?
When you host a website on a dedicated server, you have access to the entire server's storage and computing resources. Additionally, it lets you receive the most enjoyable hosting experience. You gain access to a wide range of administrative features, including better security, customization, and the greatest amount of hosting flexibility. It is ultimately up to you how you use your dedicated server. It is significantly more costly than other types of web hosting solutions. However, it also provides significant financial benefits. To have complete control over the server's processes, big businesses and e-commerce organizations should consider changing to a dedicated hosting solution. A dedicated server is best suited for websites that require high-level security, such as those that get involved in business or scientific data.
4. Cloud Hosting And Who Is It For?
Cloud hosting plans include the use of various remote servers. Each server in this hosting configuration is in charge of a different task. If one of the cloud network's servers is affected or has an issue, other servers inside this network take over responsibility. Additionally, because cloud servers have fewer network issues, your website will experience fewer downtimes. It also improves its uptime rates, which is highly beneficial. The strongest point of cloud web hosting solutions is resource scalability. It is effective for rapidly expanding medium and large commercial websites. Therefore, if you expect your website's traffic to increase steadily over time but it is currently inconsistent, you should consider cloud hosting.
5. Reseller Hosting And Who Is It For?
In comparison with other types of web hosting, Reseller Hosting is different. You take on the role of the Website Hosting Provider for various users in this hosting service setup. You can offer a selection of web hosting plans to your customers by using reseller hosting strategies. If you want to provide web hosting to other websites, a reseller hosting plan is a suitable option. It is essentially a white-label hosting platform in which you obtain large amounts of hosting from a provider for further distribution. You purchase hosting from a supplier and resell it to your customers in various plans. You get to choose the pricing structures and configurations for your customers. With this option, you can expand your current customers while also generating significant profit margins. It is commonly used by developers and web designers who provide hosting-related services.
Get Web Hosting Solutions from Hostbillo at Cheap Prices
So now you understand the importance of the multiple types of web hosting solutions, you should recognize that selecting the right provider is equally important. Let us introduce you to Hostbillo, a leading best web hosting solutions provider. It is a well-known provider in the market on a global scale. It has a reputation for offering a wide range of hosting plans at reasonable prices. The business offers a variety of web hosting packages to accommodate the different requirements of various websites. Besides this, based on the growth of their websites, users can easily upgrade or downgrade their web hosting packages. The key characteristics of Hostbillo are:
Each website hosting plan includes a 7-day money-back promise.
Modern data security measures get provided by Hostbillo, along with an SSL certificate, data backup, virus scan & defense, antivirus software, and others.
A 99.90% uptime guarantee gets included in the server-level agreement.
SSD data storage gets provided for your website.
Hardware support at the enterprise level gets presented.
Along with web hosting plans, you get to have a free server installation service.
Conclusion
There are lots of possibilities to think about when creating a new website. Secondly, registering with a hosting provider is the first step in creating a powerful internet presence. Web hosting is a platform that allows individuals to visit your website through the internet.
To assist you in selecting a reputable and affordable solution for your website, it is important that you know the primary features of the different types of web hosting solutions.
The basics are the same even though there are so many solutions and hosting providers that offer a wide range of services. We recommend that you keep your needs in mind as you weigh the advantages that perfectly suit you. This post includes five distinct web hosting solutions for your consideration. From Hostbillo's selection of hosting solutions, you can pick the one that best meets your needs.
 Related: SSL CERTIFICATE: A MUST-READ GUIDE