Don't Get Scammed When Posting Ads on Craigslist in Seattle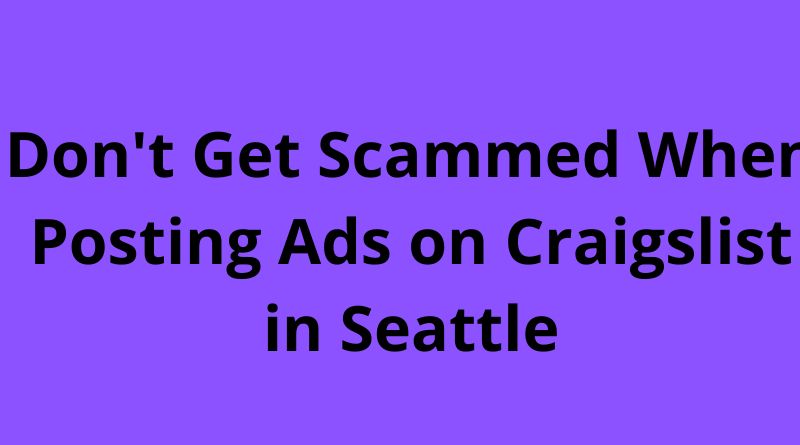 When posting ads on Craigslist, there are some important dos and don'ts to keep in mind. If you want to avoid scams and rip-offs, follow these dos and don'ts of posting ads on Craigslist in Seattle to make sure your money goes where it's supposed to go.
Do: Include photos
Craigslist is a goldmine for finding work and advertising your goods. Though the world's most famous classifieds site has grown to over 100 cities around the world, including major metropolises like New York City, Los Angeles, and Boston, it can still be a little tricky to navigate. That's why we're giving you some Dos and Don'ts of posting ads on Craigslist in Seattle. Follow these tips so you don't get scammed!
Do: Research the seller
The dos and don'ts of posting ads include researching the seller. Make sure you can trust them to deliver what they say they will deliver and also get a receipt as well as follow-up communication from them before trusting them with any cash. For cars, be sure to meet at a public location where there are plenty of people nearby and to always test drive it for 20 minutes.
Do: Offer a fair price
When posting ads on Craigslist in Seattle, make sure to offer a fair price. If you set the price too high, your product will get missed by prospective buyers and if you set it too low, they may question your motives. Consider asking someone who's used Craigslist before for help with pricing or research prices similar products are being sold for online.
Do: Meet face-to-face
Craigslist is an online classified and forum site. It has both pros and cons. The main pro of this site is that it's very widely used, so there are a lot of prospective buyers. The main con, however, is that there are also a lot of scammers trying to get free things. One way to make sure you don't get scammed is to meet the buyer face-to-face and make ure they pay with cash before giving them the product.
Do: Involve a friends
The post can get complicated, but find a friend with experience to help you create an ad. You'll make sure it's legal and have someone to back you up when you meet the person for the first time. Don't: Expect good ads: Just because there are a lot of ads posted doesn't mean they're all good. Check reviews before you trust anything that pops up.
Do: Complete payment in person
If you decide to meet up with someone from Craigslist to complete a transaction, make sure to bring a friend. You will also want to complete the payment transaction in person by making sure that you have the cash with you or have set up a credit card payment ahead of time. Paying in cash will make it much more difficult for scammers and con artists to take your money and run if things don't go as planned.
Don't: Use your real name
There is no good reason to include your name in the text of a craigslist ad. This is because you are exposing yourself to identity theft and fraud. If people contact you via email and ask for more information, your response should always be polite but never follow through with sharing any more information than what's been included in the original craigslist ad.
Don't: Give out personal information
Craigslist scams are unfortunately common and because of this, it's important to exercise caution when posting or responding to ads. Here are a few safety tips to keep in mind: 1) Don't give out personal information; 2) Always meet the buyer/seller in a public place, such as a coffee shop; 3) If you plan on exchanging money for goods, bring someone with you if possible.
Don't: Meet alone at night
Bring a friend with you, preferably someone of the opposite sex, for moral support and to increase the odds that your meeting goes well. Meet near an area where other people will be passing by, like a park or busy street corner. Bring an escape plan – a code word that can signal that something is wrong and you need help – just in case something goes wrong. And finally, meet during daylight hours when most people are out and about, not at night. You never know who's lurking around…
Don't: Drive alone to an unfamiliar place
The first thing you should do is not drive alone to an unfamiliar place. If you're paying for services, always take a friend and make sure you have his or her phone number handy. Ask for the contact information of the other party as well before making any commitments. The best thing about this popular classified site is that there are options to protect yourself against scams, so be sure to review them carefully before posting your ad.